A group of us from the NRDC teams in Beijing, San Francisco, and DC just visited Shanghai, China to discuss opportunities to collaborate on helping turn an old iron and steel alloy plant into a new "clean energy development zone". The site is one of 12 old industrial sites that China is planning to turn into clean energy development zones. NRDC's China Program will be working with this project to make it as energy-efficient as possible. This project is another powerful reminder of how focused China is on tapping into the clean energy economic opportunities that will come as China and the world move towards a low carbon economy. They are literally turning old industry into new industry.

We drove about 45 minutes from our hotel near the "French Concession" to an old industrial zone. The industrial zone we traveled through could have been located in any country. The only thing that reminded us where we were visiting was the Chinese language on the signs of the plants. But as we learned later this site wasn't a typical industrial zone.

The Shanghai government closed the old iron and steel plant in 2006 because it contributed a significant portion of the pollution in Shanghai. But instead of moving the plant and leaving the remnants of the rusted iron and steel operations, the plant is being converted into a site for research, testing, demonstration, and development of clean energy. And they are planning to build the buildings and the overall site to be the most energy-efficient possible.

They are still in the early stages, but what we heard and saw is impressive.

A major investment. The project is being run by the Chinese state owned enterprise China Energy Conservation and Environmental Protection Group, which invests in energy efficiency, wind, solar, and other environmental projects. We met with the General Manager and Vice-General Manager of the project which is formally known as the Shanghai International Energy Conservation and Environmental Protection Park. The Chinese central government and the Shanghai city government are planning to invest significant amounts of money in the project – $752 million (5 billion RMB). The area is huge, it totals over 81 acres – the size of around 80 football fields. They are planning to build 500,000 square meters of building space on the site over a period of 3-5 years.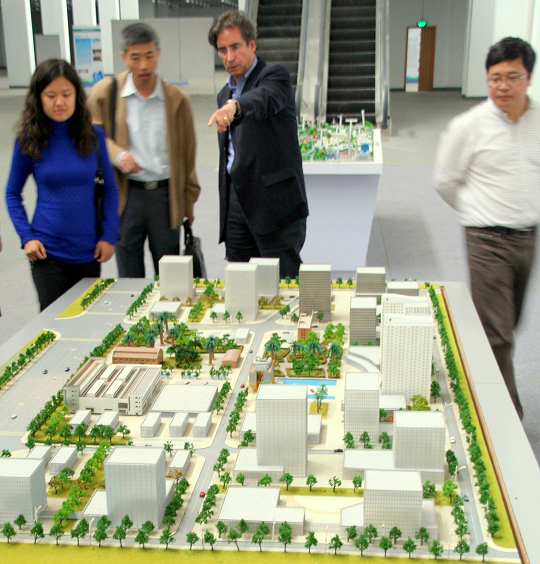 Planning for the lowest net energy use possible. They are planning to convert some of the old facilities and build new ones. They are planning to retrofit or build each of these buildings to the highest energy efficiency level possible. The facilities will service low carbon industries including green businesses, research and development of low carbon technologies, and educational operations. We will be working with them on this effort as there is significant potential with the resources and the space.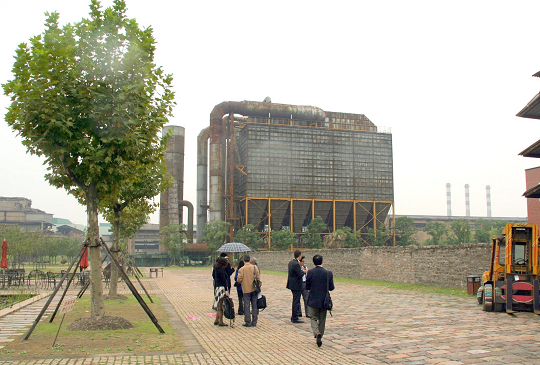 A model for other parts of China and the World? While there are examples of similar projects throughout the world, as we were sitting in the room my colleagues and I couldn't come up with another example of a project of such scale and with such a dedication of resources. We thought it would be useful for the Chinese officials to see a similar project in operation to help them visualize what their project could turn into. But since we couldn't come up with a good example in another country maybe this site will be the place that others come to visit to visualize. After all, that is the vision of the project. The officials we met with stress that they want this site to be the best model to other parts of China and ultimately replicated elsewhere. These are high ambitions, but from what I've seen on my trip in China it wouldn't surprise me if they meet this aim.

China is investing in the future of clean energy. While I was on this recent trip we saw first-hand China's efforts to deploy carbon capture and storage on a coal-fired power plant, a joint China-US venture to build an electric car, and an old industrial site being converted into a clean energy development zone. Those are only a couple of examples of how China is investing in the opportunities provided by the $13 trillion dollar clean energy market that will materialize as the world moves to address climate change.

We saw just three of China's cities and came away with several examples. And that is just a small example of what is happening in other cities around China. In meetings we had with key policymakers in Beijing we heard additional examples of how focused China is on tapping into the growing clean energy market. They are embarking on significant investments in the clean energy industries of the future. They are serious, focused, and mobilizing substantial resources to be leaders in these industries. Will the US and other countries find the same focus?
---
Our team included: Jin Ruidong, Philip Yang, Sissi Yang, Bruce Ho (Beijing); David Goldstein (San Francisco); Jacob Scherr, Adam Scherr, and Jake Schmidt (DC).