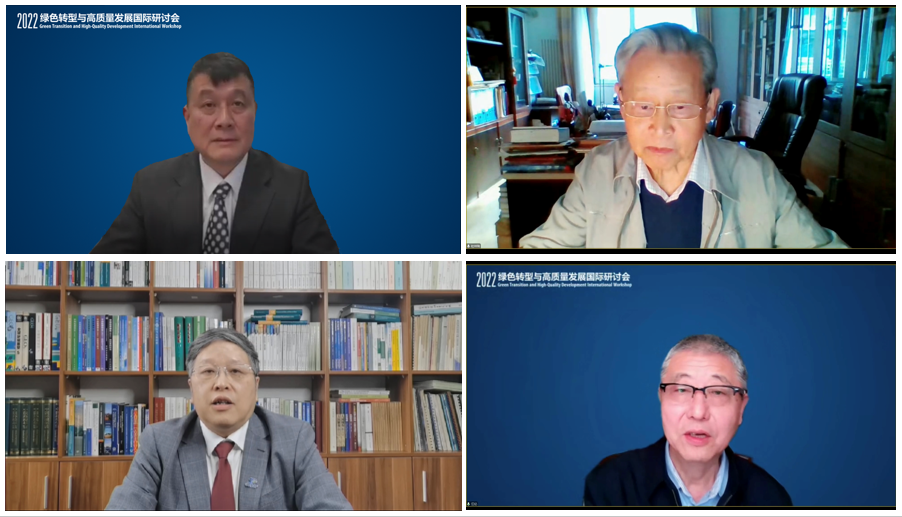 Screenshots of Jiang Zhaoli, Du Xiangwan, Wang Jinnan and Jiang Yi speaking at the workshop
To address concerns about how to sustain China's low carbon transition and coal reduction while also strengthening its energy security, NRDC brought together leading Chinese and international experts to join the annual China coal cap project international workshop on November 23 to offer their insights on promoting coal reduction and energy transition at the national, provincial, sectoral and enterprise levels. Held with the Chinese Society for Environmental Sciences and Chinese Academy of Environmental Planning, the online workshop attracted an audience of more than 11,000 viewers.
High-level speakers sharing their insights on low-carbon transition included Jiang Zhaoli (Deputy Director General, Department of Climate Change, Ministry of Ecology and Environment), Du Xiangwan (Academician & Former Vice President, Chinese Academy of Engineering), Wang Jinnan (Academician, Chinese Academy of Engineering), Jiang Yi (Academician, Chinese Academy of Engineering and Director at Building Energy Efficiency Research Center of Tsinghua University), and Jake Schmidt (Senior Strategic Director of International Climate, NRDC).
Leading experts were invited to join four panel discussions on power generation enterprises' low-carbon transition, promoting high-quality development as part of energy transition, key provinces' roles in pollution and carbon reduction and energy transition, and low-carbon technology innovation and utilization in key industries.
The workshop was covered in leading media including China News Service, Jiemian, China Industry News, Low Carbon China, Polaris Power, and China Economic Times.